The Making Neighbourhoods Residency takes place from the 21st to the 30th of June in Cloughjordan Ecovillage. Following an open process, three creative placemakers have been selected for the residency: Patrick Mulvihill and Heather Griffin from Amicitia and artist and architect, Sinéad Cullen.
The Residency is within the broader Making Neighbourhoods project led by Workhouse Union in partnership with Cloughjordan CoHousing and Self Organised Architecture (SOA), funded by the Arts Council.
The residency follows a national seminar which took place at Project Arts Centre Dublin on 8th of June and will culminate in a publication due autumn 2023. The project builds on the experience of Cloughjordan CoHousing and its annual Housing Ourselves gatherings, the Roadmapping Community Led Housing process and publications led by SOA.ie and eight years of Nimble Spaces inclusive neighbourhood co-design and development work that Workhouse Union has supported.
HOUSING OURSELVES 2023
As part of the residency a workshop will take place in Cloughjordan.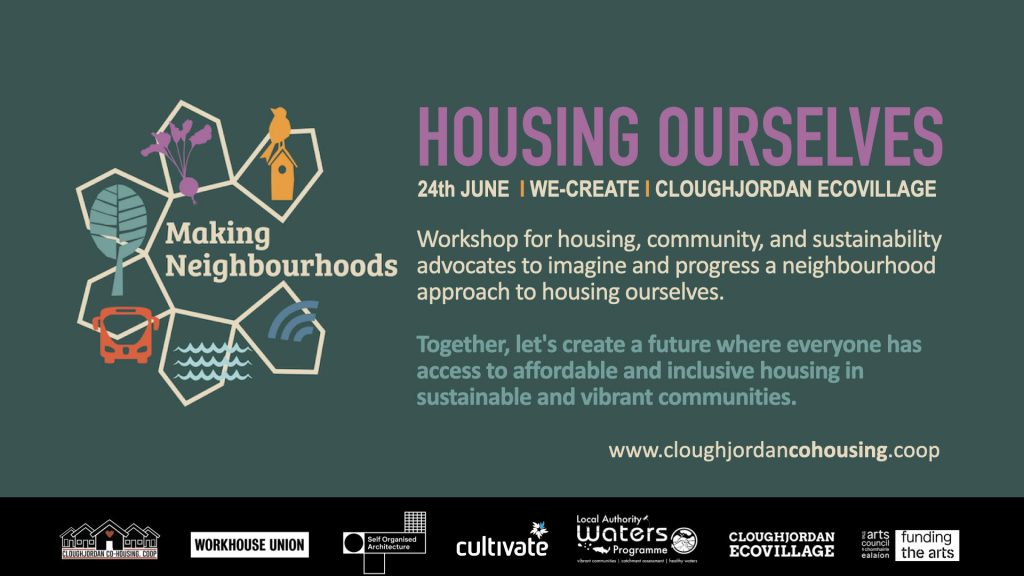 Making Neighbourhoods – Housing Ourselves Workshop – Saturday 24th June 2023
10.00 – 17.00 – WeCreate Workspace, Cloughjordan Ecovillage €25.00 (includes a light lunch) payable on the day.
Places are limited, please register with Graham. admin@cloughjordancohousing.coop
Join us for a workshop for housing, community, and sustainability advocates to imagine and progress a neighbourhood approach to housing ourselves. Together, let's create a future where everyone has access to affordable and inclusive housing in resilient communities.
HOUSING OURSELVES WORKSHOP PROGRAMME  
10.00 – The Context of Community Resilience. Welcome and introduction from Davie Philip and Rosie Lynch
10.15 – Creative Neighbourhood Making Led by Rosie Lynch, Inputs from Sinéad Cullen, Patrick Mulvihill and Heather Griffin.
10.45 – Neighbourhood Water Issues
What can local communities do to protect and improve water quality? What are the options for neighbourhood scale wastewater systems?
With inputs from Ruairí O Conchúir, LAWPRO – Community Water Officer, Mick Canny, Ecovillage Resident and chair of Cloughjordan Arts, and Fergus Merriman, Merriman Solutions, Chartered Building Surveyors 

11.30 – Break 
12.00 – Community-Led Housing Reflecting on the progress of different cohousing initiatives in Ireland and exploring strategies to build momentum. With Nimble Spaces, Cloughjordan Cohousing, Common Ground, Cork Students Cohousing and possibly others.
13.00 – Lunch
14.00 – Tour of Ecovillage
15:00 – Small Group Discussions With input from different Community-Led Housing advocates • Reimagining Elderhood • Affordable Construction • Inclusive Neighbourhoods
16.00 – Break
16.15 – Final plenary – insights and reflections
16.45 – Conclusions
17.00 – Ends
On Sunday the 25th of June from 14.00 to 16.00 as part of the Making Neighbourhoods Residency a Street Feast will take place. This is a neighbourhood street party that is happening in communities all over Ireland that day.  The Street Feast will take place on Cloughjordan Main Street at the entrance to the Ecovillage 
Bring food and drink to share. All are welcome